Coast Guard Marine Co ordination.
The IRCG coordinates Search and Rescue (SAR) through its Maritime Rescue Coordination Center (MRCC) in Dublin (located in Leeson Lane off Leeson Street) and Maritime Rescue subcenters (MRSC) at Malin Head, Co. Donegal and Valentia Island, Co. Kerry. Each MRCC or MRSC is responsible for SAR operations and the day to day running of its allocated Division.
Helicopter
The Coast guard Helicopter at Shannon is our main resource and a great benefit to the whole of the west coast of Ireland.
Sikorsky S92
Located at Shannon Airport the S92 is blazing a trail in terms of technological capabilities, possessing the speed, range and equipment to deliver a SAR service that meets modern-day needs.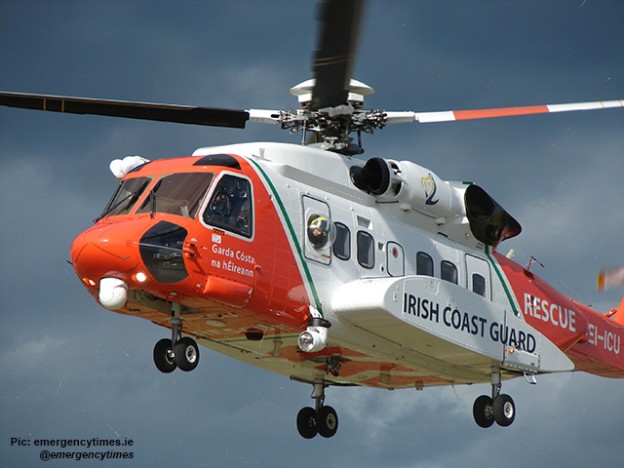 The aircraft is fitted with high-speed dual hoists, and boast cutting-edge technology:
Thermal imaging and high-definition low light sensors

Direction finding equipment

Maritime Automated Identification System (AIS)

Powerful searchlight

Satellite communications with flight following

Paramedic advanced medical equipment
The radius of action for the S92 is in excess of 250nm
| | |
| --- | --- |
| Maximum speed (VNE) | 165kts – 306km/hr |
| Maximum continuous cruise speed | 151kts – 280km/hr |
| Long range cruise speed | 138kts – 256km/hr |
Flank Stations
With 52 teams around the coast each coast guard unit has a team either side of them to assist if the need arises. These teams are refered to as Flank stations. see Map Mashup . In the case of the Killaloe unit our Flank stations are Doolin, Kilkee, and Ballybunion. We can call on these teams for assistance with manpower, vehicles, radios or any other relevant purpose. We can request these through Shannon Coast guard Co-ordination center.
RNLI
The RNLI have an Atlantic 75 (7.5 mt RIB) based based at Dromineer
SARDA (Search and Rescue Dog Association of Ireland)
SARDA Ireland is a voluntary emergency search and rescue organisation concerned with the training , assessment and deployment of air scenting search and rescue dogs to search for missing persons. These dogs can cover huge areas efficiently and are especially effective where human sight is limited. Airscenting SAR dogs , or non-scent discriminating SAR dogs can work where other searchers have been or where other people have passed through. They do not require a scent article.They are trained to detect the presence of any human scent in the area.
Other Agencies
As the need arises other agencies such as The Navy (Including Divers), the Garda (Including Divers), Ambulance service and the Fire Service can be accessed.